… is by harnessing the social web
Kids, bare in mind, no essay should ever start with the conclusion. But maybe if I do so this message could get to the ears of the so-called corporate strategists of M&Y. Maybe the good friend of mine who works for Yahoo or the other guys I know who work for Microsoft will forward it to those in charge.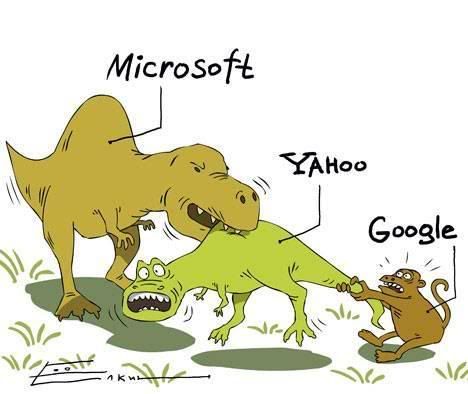 [image source :
Laptop-top.com
]
Microsoft just announced they once again rebrand their search page. It used to be MSN search, then they rebranded it as Live.com like a year ago or so. And now they want to change it again, to Kumo (whf? Kumo? sounds like Cum-Oh to me…). But the name is not important – even if the rebranding works and people will go to Kumo instead of Live.com, it's still going to be just 2 people doing this – Bill Gates and Steve Ballmer. The rest of the world will use Google, because it's really more useful. No way Microsoft(of Yahoo; I'll just use M&Y for these two throughout this rant) can ever be able to compete with Google on this front. It's like nazi Germany going through Siberia to conquer Russia. Won't work – Russia is too damn big, it has a strong foothold, is on its home-ground, has bigger and better infrastructure.
But guess what: it doesn't matter. Because there's another way M&Y can strike back and have a standing chance: Social Web, you got this? Harnessing; exploiting it. Making use of it.
The web is changing. The REAL Web is changing.
There are two World Wide Webs out there: the first one is made of web pages. The second one is made of useful web pages. Web pages that people actually use(or find useful) are a lot fewer than those in the first one. The first web is owned by Google – they claimed at one point an index size of 1 trillion pages. But it's a moot point – like saying that Google knows all the planets in the galaxy. For astronomy fans this could be useful, but most of humankind would appreciate knowing really well just one: Earth.

People no longer do web research by looking at your trillion pages index. The first 5 Google results on almost any important topic goes to Wikipedia, blogs or famous newspapers(usually in this order). Sometimes they also go to Amazon, Youtube, Craigslist, Ebay. You know, online websites that people really use, along with their favorite online tools and services, or their favorite socializing places(Twitter, Facebook, MySpace, etc). We usually call this the social web. And, off course, the social web is a lot smaller. Way, way smaller. Millions of times smaller.
Let these words stick into your head, mr Ballmer: social web is what people really use.
There's no real search engine in the social web
Hasn't it occurred to anyone over at M&Y that there's no great blog search service out there? It used to be Technorati, but they got lazy and stopped improving. Then Google Blog Search appeared, but they simply didn't want to make something good people could actually use. I'd switch any day to the web search engine that was bright enough to search through all the blogs (Technorati says they are 133 million – a lot less than 1 trillion, right?) and come with good meaningful answers mixed with the classic web search of a million or so relevant websites out there.
It wouldn't have to be a search engine for all the pages on the web – no one ever looks at the third page of results on Google. Relevance would be easily inferred from trackbacks, delicious.com links, Twitter/Facebook/Friendfeed references, votes on Stumbleupon or Digg, etc. Important content would be pulled from blogs, Wikipedia, Squidoo, Mahalo, and other human operated content providers.
I'd run to this search engine any minute, since Google simply doesn't cut it for me anymore. I'm a human, I live and interact on the social web. I don't need one trillion pages for my search results; I only want the best ones, the ones people actually use(not the billions automatically generated by spammy websites).
If anyone at Google reads this, please keep it in mind : if you want to create a better search engine than Google currently has, the point is to stop indexing trillions of automatically-generated pages and focus on the ones that real people write and use. They are a lot fewer, and much more important. And please make Blogsearch something real people would actually want to use.
PS. The subtitle says that there's no major player, that's because there's a lot more to do on the social web than simply searching. Reading or writing blogs, for instance – and Google does have a strong foothold here, but not as strong as the search engine deal. The guys at Yahoo could probably write a better online blog reader, if only they stopped getting fired. Same goes for making yourself a free blog – Yahoo 360 sucks, so do Microsoft's live spaces. Which only leaves the world with WordPress.com and Blogspot.com – M&Y could probably clone these in a few months, if only they wanted. But the mighty ones are just too blind to see or hear the people…
---
Similar Posts: